Minister of Mines and Steel Development, Dr. Kayode Fayemi, has finally broken his silence on his speculated governorship ambition in Ekiti State.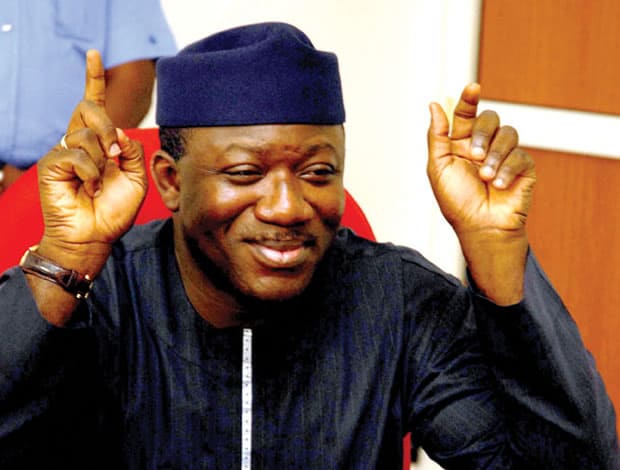 Fayemi said he would run for the state's number one seat in the 2018 governorship poll but would visit the state secretariat of his party, the All Progressives Congress (APC), to officially declared intent anytime from April 14.
He said the official declaration would come once the electoral umpire, the Independent National Electoral Commission (INEC), lifts the ban on open campaign ahead of the Ekiti governorship poll.
Fayemi, who was in office between October 2010 and October 2014 said his joining the governorship race was not debatable but he would not want to flout the law by declaring intent to contest when INEC was yet to blow the whistle for the race to start.
The former governor who addressed a briefing on his ambition at his Isan-Ekiti country home on Sunday said everything constitutionally, legally and legitimately possible would be done to ensure an APC victory at the forthcoming governorship poll.
Fayemi said: "Do you need a rocket scientist to tell you that I am running? I was very clear that I am a process person, I am not going to jump the gun because there are rules and guidelines for electioneering.
"The body that is responsible for that has stated the obvious when you can actually start campaign. The fact that people are actually flouting the guidelines is a fault of INEC and INEC is not taking them up on it.
"That is my own attitude to it and at appropriate time, I will tell my party because this is purely a party matter, it is not a public matter yet.
"So, I don't really understand the level of curiosity whether I am running or I am not running. I am very clear that what we have in this state today is not what this state deserves.
"I have always been very clear that whatever it takes constitutionally, legally and legitimately to pout our party in office in October 2018, we will do as a party.
"I have also gone ahead to say this meeting (held on Saturday) is our usual gathering; it is not a place to declare the intention to run but as to whether I am running or not, I am running.
"That is not debatable but I am a process person, I am not going to flout the law. You will know, you will all be invited when I decide to formally declare within the ambit of the guideline issued by INEC."
The minister had earlier hosted party leaders from ward to state levels to a quarterly meeting on Saturday but did not publicly declare intent to run for governor at the gathering contrary to widespread speculations.
He had said at the meeting: "INEC has just released election notice, they said public campaign begins in Ekiti State on April 14. Let's wait till then, whether we are sure of ourselves or not, we will know."
At the meeting, Fayemi said he had learnt his lessons following the loss of power to Governor Ayo Fayose in the 2014 governorship election.
Fayemi also called on party faithful who he had offended to forgive him while he also declared that he had forgiven those who offended him (Fayemi).
He said party leaders had given assurance that a transparent, free and fair primary election would be conducted to choose the governorship flag bearer and promised that the winner of the shadow poll would be supported to win the main election.
Fayemi said Fayose cannot threaten him with any White Paper saying he has a Red Card to show Fayose at the election. He urged APC members to hold their Red Card in one hand and their Permanent Voter Card in the other hand.
The ex-governor, however, appealed supporters of governorship aspirants to stop running down others on the social media urging them to market their principals.
The minister stressed that election is not won on Twitter, Facebook, WhatsApp and other social media platforms but at the polling units.