Lewis Hamilton refuses to speak to media because he's 'disappointed' with Snapchat criticism
Lewis Hamilton refused to speak to the media following qualifying for Sunday's Japanese Grand Prix after he was criticised earlier in the week for spending a press conference on his mobile phone.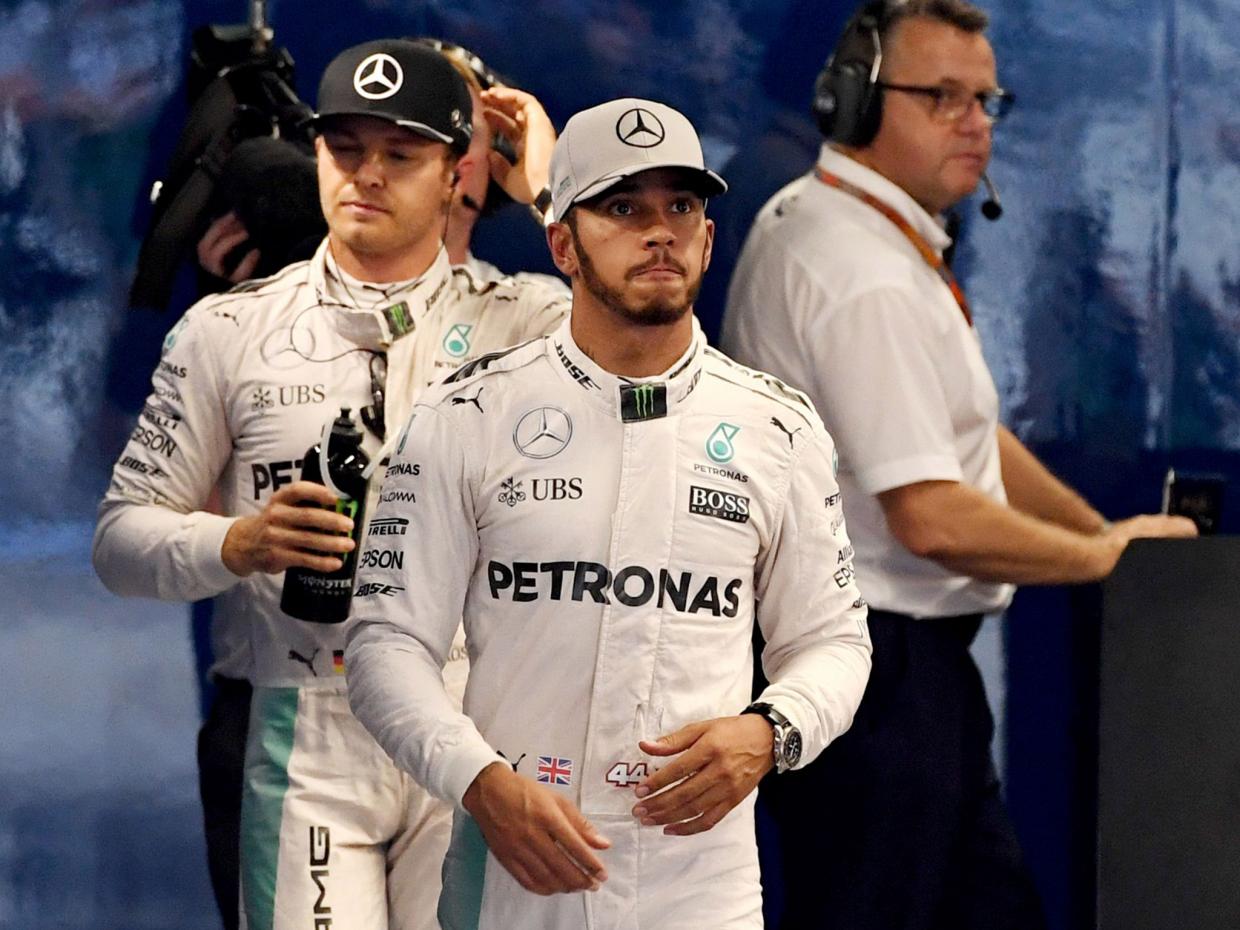 A frustrated Hamilton had to make do with second place for what could prove to be a pivotal grand prix in the season run-in, given his arch-rival and teammate, Nico Rosberg, starts from pole position. Should the German clinch victory on Sunday, he will extend his championship lead to more than one race victory, and leave Hamilton just four grand prixs to try and turn around the title battle.
[pro_ad_display_adzone id="60438″]
The three-time world champion is showing rare signs of fragility though. Having publicly criticised his Mercedes team following the Malaysian Grand Prix last weekend – in which he accused someone within the team of deliberately sabotaging his title challenge after suffering another reliability failure – Hamilton back-tracked and spent much of the week posting tributes to his mechanics on various social media platforms.
But his use of social media came back to haunt him when he spent the duration of Thursday's driver press conference on Snapchat, where he posted pictures of himself and the other drivers in attendance with various filters on the images.
Hamilton was accused of "disrespect" from many of the journalists in attendance in Suzuka, and despite taking to Twitter to claim he never meant to upset anyone, he clearly has not reacted well to the criticism.
It resulted in Hamilton refusing to speak to the written press after finishing runner-up to Rosberg in Saturday's qualifying session, and given his ability to keep a calm head during the last two seasons when the title was on the line, it raises serious questions about how he is dealing with the pressure this time around given that Rosberg has won three of the last four races.
"The smiles on your faces probably will be no longer," Hamilton said. "I'm not actually here to answer your questions, I've decided.
"With the utmost respect, there are many of you here that are super supportive of me, and those of you hopefully know I know who they are.
"There are others unfortunately that often take advantage of certain things. The other day was a super light-hearted thing, and if I was disrespectful to any of you guys, or if you felt that I was disrespectful, it honestly was not the intention, it was just a little bit of fun.
"But what was more disrespectful was what was then written worldwide. I'm just kind of in a position.
"Unfortunately there are some people here, it's not them that's done it, and unfortunately the decision I will take unfortunately affects those who have been super supportive. That's why I'm saying with the utmost respect.
"But yeah, I don't really plan on sitting here many more times for these kinds of things. My apologies, and I hope you guys enjoy the rest of your weekend."
Hamilton did not storm out of the press conference, but did say that he would not answer any questions as he was "disappointed" with the reaction to Thursday's incident. He then wished the journalists a happy weekend and promptly left.
The 31-year-old heads into the Japanese Grand Prix knowing that another Rosberg victory will leave him at least 30 points behind the German, who is bidding to win his first drivers' championship this season.