Jordan Henderson out for revenge on Manchester United boss Jose Mourinho
Jordan Henderson is hoping he and his Liverpool teammates can avenge the team's loss against Jose Mourinho's Chelsea that cost them the Premier League title in the 2013-14 campaign.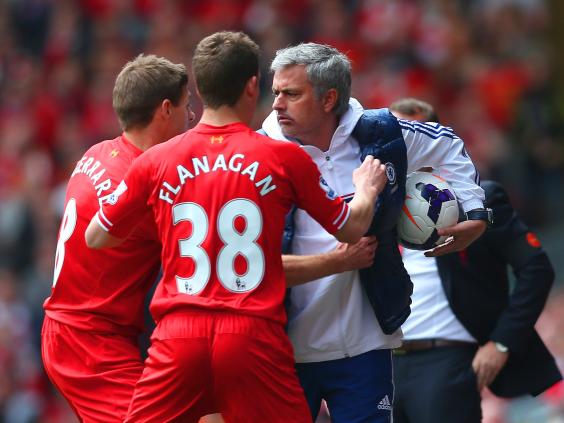 Henderson was suspended for the game at Anfield in April 2014, but he can recall cutting a frustrated figure watching from the stands as Mourinho's Blues sucked the life out of the contest and won 2-0.
[pro_ad_display_adzone id="60438″]
The Liverpool captain says beating Mourinho's Manchester United on Monday night would go a long way to putting that result behind him.
"I will never forget that Chelsea game at Anfield when we lost and we were going for the title," Henderson told The Guardian. "It was frustrating for me. I was a fan, I was in the crowd, it was frustrating to watch. I was shouting at the ref to get things going a bit quicker.
"It wasn't a nice game to watch but full credit to Jose. It was tactically very good from him and he is a great tactician, he is a world class manager and he has shown that in the clubs he has been at.
"The way they played that game was very clever from Jose. We were on fire at the time and the way they played the game, very slow, sitting in, it was difficult to watch.
"They made it very difficult — throw ins, goal-kicks, they were taking forever and that got everyone worked up in the stadium and it worked to their advantage because they got the result they came for and it had a big impact on us winning the league.
"I will never really forget that, so Monday will be a big occasion, if we can keep performing the way we are and win, to sort of put that to bed.
"It will be a tough game. United are a good team who have some very good players and a top manager. We need to be ready and prepared for anything that is thrown at us."
Liverpool eventually finished second that season, two points behind champions Manchester City. Had they beaten Chelsea then they would have won their first Premier League crown.
Henderson also believes Liverpool have the quality in all areas of the pitch to break down United, should Mourinho employ similar tactics again.
"Every player for me is raising their game and performing really well," the 26-year-old continued. "In the final third we have been very good, ruthless.
"We have some very talented players going forward and creating opportunities. We're all getting on the scoresheet, we're all getting assists, which helps us as a team.
"If you are the opposition, you don't know where the goals are going to come from because they could come from anywhere."
Liverpool have already produced a number of statement victories so far this season, which has led to some tipping them to be challengers for the title.
A win with a three-goal margin over United could put Liverpool top of the table, but Henderson insists the team will stay grounded under Klopp.
He added: "Now everyone is performing really well and getting praise but it is a case of more of the same and not getting carried away with anything. I am sure the manager will be right on top of that.
"That will definitely not happen in this team with him managing it, so we will just continue executing the gameplan like we have been doing.
"I think we've got a lot of belief as it is with the performances and results we've had. We believe if we keep working hard and improving, not only as individuals but as a team, and keep listening to the manager, that we are definitely going in the right direction. That's what everyone wants.
"This is a massive game that everyone will be watching but for us it's another team who are trying to take away three points and we've got to stop that and make sure we win."