President Muhammadu Buhari says he is only seeking a second term — not a third term like former president Olusegun Obasanjo.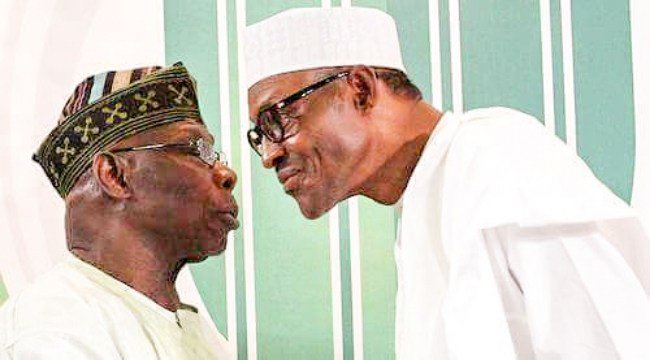 Speaking in the Ondo state capital, Akure, on Tuesday, the president took a jab at the former president, without mentioning his name, but made it abundantly clear he was speaking to the former major general.
"We have just finished one term and are seeking a second one, and after that, the constitution doesn't permit anymore," Tolu Ogunlesi, special assistant to the president on digital communications, quoted him to have said.
"There are some who tried looking for more but they did not succeed. We should learn from their mistakes."
In 2006/2007, former president Olusegun Obasanjo, was reported to have attempted ruling for a third term, after occupying the office of the president for the two terms permitted by the constitution.
A bill was sponsored at the national assembly to extend term limits by another four years, but the lawmakers, who were said to have been paid, did not ratify the bill.
Ken Nnamani, president of the senate, would later reveal that Obasanjo had informed him earlier, but he did not believe the former president until the situation played out.
"Immediately, I became Senate President, he told me of his intentions and told me how he wanted to achieve it. I initially did not take him seriously until the events began to unfold," Nnamani said.
Obasanjo, who supported Buhari in 2015, is currently backing Atiku Abubakar of the Peoples Democratic Party, to unseat the incumbent president.